So, what is Affilorama about? Affilorama was founded in 2006 by Mark Ling and Simon Slade. So, its been around for over a decade, and widely accepted as a go-to for affiliate marketers seeking beginner information as well some experienced marketers.
We're going to take a deep-dive into all of their products, free, as well as paid, and find out exactly what Affilorama is all about and whether it's worth the money or not. Plus I'll give you my recommendations on all their packages.
What Is Affilorama About?
Affilorama is an affiliate marketing training platform. Designed to provide limited free lessons, including short videos, from which you can start learning from in addition to paid products which we'll cover in detail below.
Also, available to access for free are the Affilorama Blog and Forum. The blog has many topics, however, new content is not being added as frequently as some other similar sites. Their forum is moderately active, with questions and answer coming in regularly.
The free lessons consist of:
Introduction to Affiliate Marketing
Market Research
Content Creation
Site Building
Marketing Ideas
SEO
PPC
Affiliate Outsourcing
These free lessons are designed to give you enough information to familiarize yourself with the topics. Each section contains a short video on the topic at hand (you must sign up as a free member to view them) and a brief description.
You'll also find associated topics within each section to further your knowledge, some of which are quite helpful. You'll also find additional short videos here as well.
Affilorama – Pathway To Passive – $37
Pathway To Passive (P2P) is the first paid product you're likely to encounter. Billed as the ultimate "READ ME FIRST" guide for new affiliates. It comes with Clickbank's 60-Day money-back guarantee.
It's designed to be an all-in-one, albeit, very high-level guide to building successful affiliate sites.
Inside P2P you'll find:
How to find profitable affiliate products.
Find out the 11 best niches you should consider.
How to compete in competitive niches.
Avoid common mistakes made by newcomers.
How to attract the right people.
A blueprint for writing product reviews.
Low competition money-making ideas.
How to convert visitors into buyers.
Learn what to say to your buyers to get them to buy.
How to create click funnels.
How to find out what your audience really wants.
Effectively create link-bait content.
The no-effort way to build links.
And more…
This eBook contains some very useful information and is very well put together. However, I wouldn't expect it to be the guide that takes you from zero to making good money online. While there is good information in the ebook, you're going to need much more training than this book provides.
In my experience, it takes way more than a single eBook to get to the point where you're making some decent money online. It takes targeted training, a lot of support, and hard work.
P2P also has upsells for Affilorama's Premium membership, AffioTheme, and AffiloJetPack which we will talk more about below.
AffiloTheme – $97
Next in line, we have AffiloTheme. Also, with Clickbank's 60-Day money-back guarantee.
AffiloTheme is Affilorama's very own WordPress theme. It's billed as the "Complete" solution for creating effective and profitable affiliate websites.
What you can expect from AffiloTheme:
Features such as popovers and squeeze pages, proven to generate money.
A modern, clean design.
Optimized for SEO and Google SEO guidelines.
Premium theme plus 6 child themes.
Built-in header creation tool.
Opt-in form creation tool with 4 form options.
Affiliate link cloaking tools.
One year of free website hosting for 1 Website.
Thrive Architect – For building landing pages.
Thrive Leads – For building opt-in forms.
Summary
I have to say I was impressed with the inclusion of one year of hosting and the Thrive plugins. However, their Lite Hosting solution does not include any type of control panel or FTP access, which is probably fine for beginners or more non-technical affiliates. If you're a more technical person you will find their hosting to be very limiting in terms of customization.
As for their WordPress theme, it's probably good for beginners or inexperienced WordPress users, however, if you're experienced or want more than what AffiloTheme has to offer, you will probably want a more advanced theme such as GeneratePress with Elementor or Divi. Also, keeping in mind that you will need to renew your domain and hosting plan after the first year.
Affilorama Premium – $67/Month w/$1 Trial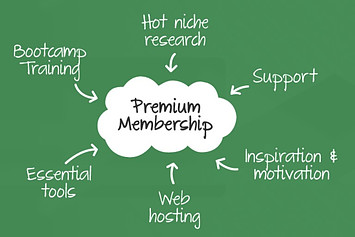 Affilorama Premium is a monthly membership that covers the platforms advanced affiliate training. It contains comprehensive over-the-shoulder type training with many perks. In addition, you can try out Premium for just $1 for the first month.
With a Premium membership you get:
Advanced Affiliate Marketing Training and strategies.
The Affiliate Vault which contains hours of training videos.
Interviews with underground Affiliate Millionaires.
'Over The Shoulder' Bootcamp Videos.
Access to AffiloTools which includes 15 premium software tools.
30 'Done For You' Articles each month.
Product Creation How-Tos.
Web Hosting for up to 15 domains.
The great thing with premium is you can try out for just $1 and you do get hosting for up to 15 domains (keep in mind the hosting limitations discussed in the previous section). However, there some things not to like. First of all, the 30 articles provided every month are essentially PLR (Private Lable Rights) articles. These articles or some 'spin' on them have or will make their rounds across the internet.
What's wrong with that? Well, Google penalizes for duplicate content. And don't think you can fool Google by spinning a different version of the article. Google is very smart and caught on to that scheme a long time ago. My recommendation, write your own unique articles.
Second, some link-building strategies I saw are outdated and no longer work. Currently, Google isn't penalizing for these, but they could in the future. I'd advise against using any old-school tactics on link building.
AffiloTools
AffiloTools is a newer addition to the platform and is included with your premium membership. It integrates with a host of services such as Google Analytics, SEMRush, Bing, MOZ, Facebook, Twitter, and more.
AffiloTools give you comprehensive rankings data including:
Keyword tracking
History of your rankings by keyword
Pages indexed
Clickbank earnings
Facebook likes and Twitter Re-tweets
Website health
Competitor data
and more…
While still currently being beta tested at the time of this writing, it promises to be a great addition to the Affilorama.
What About Support?
Premium support is provided through the platforms Forum which made up of the user community. So, answers to your questions may be slow to come.
Who Is Premium For?
Beginners needing thorough instruction
Those looking for a more all-inclusive solution
Who Is Premium NOT For?
Those looking for a more robust hosting platform.
More experienced marketers already making money.
AffiloJetPack 2.0 – $997
The last of Affilorama tools/upsells is AffiloJetPack. This is a completely separate product from the premium membership.
It's billed as a 'Powerful System for building money-making machines' and totally DFY (Done For You) system. It takes the confusion out of creating content, writing content, and website creation. At the core of the package is complete content on 18 separate niches out of which you choose 5.
So, in a nutshell, you all the content for 5 separate niches of your choice including a year's worth of autoresponder emails.
In all you get:
Premium support & coaching from affiliate marketing experts
Lifetime Access
AffiloTheme website builder
Fluttermail account for email autoresponders
Professional graphics
1 year of web hosting for ONE website
1-month trial of AffiloTools
1 Year of autoresponder emails for each of your 5 niches with built-in promotions.
It consists of 4 components focused on Emal Marketing.
Component #1
Over 90 expertly crafted emails designed to build trust with your readers and generate sales.
Emails are timed such that your readers will be ready to buy.
One Full Year of emails.
DFY hand-picked products to promote.
All you have to do is get subscribers and the rest is set-and-forget. This leads us to the next component on getting email subscribers!
Component #2
3 Free reports to help you build your subscriber list fast. Just offer these reports to entice readers to sign up and start building your list.
Reports are superbly written, proofread, quality products you can offer to your readers in an opt-in form
Reports contain your affiliate links to products, so no money is left on the table.
Book graphics (both 3D and 2D versions)
You have all rights to all 3 books. So, you can re-brand and sell them as you wish.
Again, these eBooks are PLR type products. You can be certain they are being used by everyone using this product. This can actually cause you to lose trust with your visitors if they have seen these very same products offered on other websites.
My recommendation, create your own products to give away! You can re-purpose and rewrite your own content to create products. Then go to Fiverr and get someone to create your book graphics for your products. I'm just sayin…
Component #3
This component is the AffiloTheme product discussed above which is included with AffiloJetPack. Once again, its a great theme designed for WordPress, with 1-click setup, and the same 12 months of hosting included. After year one you will need to renew your web hosting plan and domain.
Component #4
This last piece of the puzzle is an easier to get content for your website. Creating website content typically requires time researching your topic and putting the article pieces together, then writing it.
AffiloJetPacks content tools include:
20 content cheat sheets that provide valuable information on creating quality content.
DFY research on specific niches.
An easier way to outsource your article writing by using 'cheat sheets'.
A list of prequalified writers you can use to create content.
So if you want to get your website up and going fast you're going to have to shell out some money for freelance writers or write your own at a slower pace.
Bonuses
AffiloBlueprint 3.0: Step-by-step training on how to build your websites
3 videos on how to drive more traffic with Video, Amazon Kindle, and Solo Ads
AffiloJetPack is jam-packed with information on how to create your own profitable websites, build a responsive email list for 5 different niches, and get traffic to those websites.
One thing to keep in mind is that this package only provides hosting for ONE domain for 1 year. So if you want to build out the additional 4 websites you're going to need to purchase the Premium package discussed above, for an additional $67 per month.
Who is AffiloJetPack For?
IMHO AffiloJetPack is for those who either want or need a lot of the work done for you. With DFY website setup, email autoresponder sequences, and content creation cheat sheets, beginners or experienced affiliates can take advantage of it. Do keep in mind the potential negative impact of the mentioned PLR Products and consider creating your unique products.
If you like what you see with AffiloJetPack, take advantage of the 25% off coupon by clicking the link below. You have Clickbank's 60-Day Guarantee to back you up. Plus Mark Ling has said he will also give you an additional $100 if you don't get results in 60 days, although you do have to provide proof you've implemented his strategies.
That's $250 Off The Regular Price of $997 or Just $747
How Does Affilorama Stack Up?
See how Affilorama Premium stacks up to my No. 1 product.
Affilorama Review Results
Affilorama Premium
$67/Mo. w/Upsells
Pros
Step-by-Step Training w/Video
Some One on One Coaching
60-Day Money Guarantee
Affiliate Tools - 15 Premium Tools
Web Hosting for 15 Domains
Cons
Expensive Upsells
PLR Articles (Require extensive rewrites)
Some Outdated Strategies
Web Hosting Has No Control Panel or FTP
Affilorama Wrap Up
I think we've answered the big question, what is Affilorama about? Their free training is geared towards familiarization of basic Affiliate Marketing strategies, while the Premium membership offers a complete training solution with affiliate tools and web hosting. If you're considering the Premium solution I would go ahead and sign up for their $1 Free Trial. That should be long enough to see whether you like their training format and if its something you can work with. What do you have to lose? A buck!
AffiloTheme is, of course, a WordPress Theme/Site Builder. If you're going to use it, keep in mind that it will likely be hard to switch over to something else once you've implemented its features. But if your a beginner and want to get your websites up quickly, it may be a good solution for you.
The same goes for AffiloJetPack. It's a DFY solution, so if that's what you're looking for it may be your solution as well. It only supports Fluttermail and uses the same AffiloTheme WordPress site builder. Don't forget that you can get 25% Off the retail price by using this coupon code.
I hope you've enjoyed this article and learned a bit more about Affilorama and their products.
If you're interested in a less expensive, all-inclusive solution, with a larger and more active community, check out my review of our No. 1 Product.
To Your Massive Success,
Michael
PS. Please scroll down and leave any comments or questions. I'd love to hear from you.