Today I am reviewing a keyword research tool called Jaaxy in an effort to uncover the best keyword research tool for SEO. Most of us know how important picking the right keywords are when it comes to getting your content indexed high (i.e. first page) in Google, Bing, or Yahoo. And most of us know how time-consuming keyword research can be. Google used to be a great free research tool, however, they have migrated to more Adwords focused keyword planner which just doesn't do us much good anymore. Even the so-called top keyword tools out there today are more Adwords focused, and some just don't return relevant results.
This is what's led me to review Jaaxy. Many of us are Affiliate Marketers and need a tool that designed not just for Adwords, but for natural SEO rankings. Jaaxy gives you many ways to uncover great keywords, as well as ideas for niches. So it makes for a great tool not only for SEO but for niche research as well.
So let's get a summary of how Jaaxy stacks up, then we'll dive into the details.

Website: jaaxy.com
Owners: Kyle & Carson of Wealthy Affiliate
Features: 9 out of 10
Support: 10 out of 10
Training: 9 out 10
Pricing: 10 out of 10
Overall Score: 9.5 out 10
Take The Jaaxy Video Tour
Try Jaaxy Now
I
Features
Jaaxy allows you to research and locate lucrative keywords through its many built-in features. From monthly search volume, potential site visits, quoted search results, to SEO competition ratings for each keyword, Jaaxy has all the information you need. As an added bonus, Jaaxy also gives you the available domains directly related to your keywords, as well as suggestions when directly related domains are not available.
Jaaxy Includes:
Site Rank: Track historical rankings of your websites.
Keyword Lists: Create your own keyword lists.
Search Analysis: Analyze your competition and discover SEO trends.
Alphabet Soup: Allows you to uncover millions of niches and keywords.
Brainstorm HQ: Brainstorm trending topics and popular niche ideas.
Affiliate Programs: Search and find affiliate programs relevant to your niche.
Below is a view from inside Jaaxy. It's a nice, clean layout.
The column headers are defined as follows:
Avg: Average amount of monthly searches
Traffic: The projected amount of traffic to your website if you achieve page one ranking
QSR: Quoted Search Results. The number of competing sites for your keyword.
KQI: Keyword Quality Indicator: Green is Great, Yellow is Normal, Red is Poor
SEO: A score based on traffic and competition on a 1 – 100 scale. The higher the better.
Domains: The domains (.com, .net, .org) available for your exact keyword. "Find More" means these domains are not available, however, you can click on "Find More" for additional domain ideas.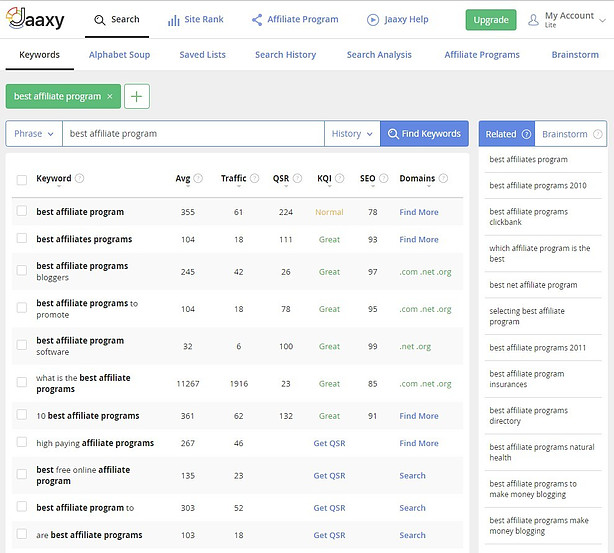 Support
To be the best keyword research tool for SEO, you've got to have support! The Jaaxy support team is responsive, and a great turn-around time for any issues or questions you may have. The support team is courteous and is genuinely concerned with resolving your issue to your satisfaction. Its what you would expect from the best keyword research tool for SEO.
Training
Training is top-notch. Online videos cover every aspect of Jaaxy usage.
Pricing
Jaaxy offers a Starter, Pro and Enterprise version.
Starter Pricing: FREE
Includes:
30 Keyword Searches
20 Search Results
Website Analyzer
Affiliate Program Finder
Keyword List Manager
Brainstorm Idea Feed
Keyword Competition Data
1x Speed
Affiliate Program
30 SiteRank Analysis Scan
Pro Pricing: $49/Mo.
Includes:
Everything From STARTER
Plus:
Sortable Search Results
Unlimited Search History
Search Analysis
Manual QSR Search
Manual Domain Search
Alphabet Soup (15/letter)
2x Multi-Threaded Search
2K SiteRank Analysis Scans
Enterprise Pricing: $99/Mo.
Includes:
Everything From PRO
Plus:
35 Search Results
5x Speed
Automated QSR
Automated Domain Search
Alphabet Soup (50/letter)
5x Multi-Threaded Search
Unlimited Keyword Lists
10K SiteRank Analysis Scans
If you're a Wealthy Affiliate Premium Member (as low as $29/Mo.) you get Jaaxy Lite for FREE, and upgrading to Pro or Enterprise is roughly half of the quoted prices above.
As you can see, Jaaxy is hands down the best keyword research tool for SEO.
Click here and get your FREE Jaaxy starter account.
If you have any questions about Jaaxy, please leave me a comment below and I will be happy to get back with you and answer any questions you may have.
To Your Massive Success,
Michael
AffiliateCash101.com