Income School's Project 24 was founded by two online entrepreneurs, Ricky Kesler, and Jim Harmer. You may have seen these guys on YouTube before as they run a successful and quite interesting YouTube channel with loads of information on making money online using various methods, including Affiliate Marketing.
So, what is Income School Project 24? Well, it's fairly new the scene, not quite 2 years old, but most of the methods taught are founded on solid principles and techniques. In this article, we'll take a look at what Project 24 is and what it isn't.
AFFILIATE DISCLOSURE: By clicking the affiliate links on this page I may earn a small commission from Wealthy Affiliate or Bluehost (at no cost to you). Should you use these links, I appreciate your support! Click here for the full disclosure.
What Project 24 Is
Project 24 is a learning platform that teaches you how to create a profitable niche or authority website. Owners Ricky and Jim have mastered video training to the point where is actually quite entertaining as well.
Their primary training product is the 60-step approach to a profitable niche site. Originally, their platform promoted "as little as 24 months (hence the 24 in Project 24) to build a full-time business".
As of 2019, Project 24 includes the 60 step approach (approximately 123 separate lessons), a Podcast that gives you their newest techniques and latest information, a member community (although young), and a growing library of courses to help you address all the issues of creating a running a niche website.
You can expect to learn:
How to find a profitable niche market.
Setup a WordPress website (which requires separate hosting and a domain).
How to create different types of content for your website.
SEO (search engine optimization) to drive traffic to your website.
How to find affiliate programs and products to promote on your niche site.
Email marketing.
How to find and train writers to write content for you.
Professional photography.
Website Reviews
How to monetize your website with advertisements.
How to use Pinterest to drive traffic to your website.
How to become a full-time online entrepreneur.
Overall, the website appears to act like a HUB or repository where marketers would go to find current information on internet marketing topics.
Ricky and Jim also show you their own websites as examples, such as the ones shown below, which are currently making them money online.
Project 24 Community
The Project 24 community looks very promising. After talking to a few of their members, the community seems to be very active with experienced marketers and beginners alike. At this stage, the community is still young, so whether their techniques will allow you to build a full-time online business remains to be seen. But there are some successful marketers active within the community as well as Ricky and Jim.
Additional Recommended Products
As previously mentioned, Project 24 does not include website hosting, domains, or any other tools. They do refer to some free tools you can use, such as the "Keywords Everywhere" website plugin and Google Keyword Planner, however, they also promote the following "recommended tools", some of which are quite expensive. However, it's not mandatory that you purchase any of these tools, except for perhaps a domain hosting plan and a domain. I would also plan on spending $50-$100 on a good responsive WordPress theme such as GeneratePress or Divi.
Bluehost and WPX web hosting services
Adthrive Ad management services
A number of quite expensive video hardware and software products from Amazon.
Paid WordPress Plugins
Paid WordPress Themes
iWriter content creation outsourcing
Paid stock images
Podcasting hardware
SendinBlue email marketing services, similar to AWeber and GetResponse
Their own "Super-fast" WordPress theme called "Acabado"
Obviously, you don't have to have these specific tools right off the bat and there are cheaper options. For example, you can find plenty of free stock images as places like Creativecommons.org. Overall, domain hosting, a domain, a good responsive theme as mentioned above, and a keyword research tool such as Jaaxy, is the only other initial purchases you really need when you're just starting out.
You will hear a lot of people try to sell you on using a free WordPress hosting or another free host, but you have to remember that you're going to want to move your niche website to a permanent domain. Moving your website is not an easy task and there are impacts to SEO and your rankings, rankings you worked hard to get. Why would you not start off with the domain you want from day one and avoid all the trouble? Trust me, I've been there.
As for keyword research, Jaaxy is one of the most economical tools there is. It's a keyword research tool made for Affiliate Marketers by Affiliate Marketers.
Private Coaching
Income School also offers one on one private coaching which is a totally separate product. This appears to be more directed to the established marketer who's looking for certain answers to whatever issues they may be having with their niche or authority website.
For $599 you can have a one on one, 45-minute coaching call, with either Ricky or Jim via Skype. During the call, they will discuss basically anything you want, for as many websites as you want.
For $899 you can have a 1-hour call with both Ricky and Jim for the same coaching.
In my opinion, this is pretty steep for what you are getting. Whatever advice they are giving better be pretty darn good!
What Project 24 Is Not
First off, Project 24 is not a scam, but its also not an all-inclusive platform. You will need to purchase separate web hosting and domains, among other things. It is possible that you could start with a free hosting provider such as WordPress.com, then convert to paid hosting later, but that is not without its own unique problems.
Additionally, Project 24 is not geared towards individual mentorship. You can ask for help from the community where you are likely to get good responses and you may get some answers directly from Ricky or Jim occasionally. But, if you are looking for one on one type of training then this is probably not for you.
Who Is Project 24 For?
Beginners
If you are looking to start an online business and want a no-frills solution, I believe Project 24 has adequate resources to help you be successful. They have a lot of quality content and tons of video. Ricky and Jim seem to be great instructors from that standpoint.
Project 24 will walk you step-by-step through the basics of creating your website, creating both digital and video content, and learning SEO.
If you like video-driven training and you can follow instructions without a mentor, then you would like what Project 24 has to offer.
Experienced and/or Struggling Marketers
Project 24 can be of great value to those who need help with their existing niche websites. The platform appears to have a lot of experienced individuals who come from this type of background that are now finding success through the methods taught here.
So, in that respect, Project 24 is well suited for both beginners and experienced marketers alike.
How Much Does Project 24 Cost?
As of the date of this article the cost is as follows:
Initial cost for the first year is $449
Each year thereafter is $199
Additional purchases you're going to need to include. Why? Frankly, these are just tools of the trade as I explained earlier. You don't want to move your website, having a responsive theme plays a role in your rankings (faster websites rank higher), and a great keyword research tool is like the goose that lays the golden egg. So I would be sure and include these expenses.
Keyword Research Tool (Jaaxy) – $49/mo.
Web Hosting (Bluehost) – Basic WordPress hosting – $49/yr. (first year only) then $108/yr. for Basic.
WordPress Theme (GeneratePress) – $50/yr. or $89/yr for Divi
A Domain – Free for first year for most hosting plans including Bluehost.
So your total initial outlay is going to be more like $597 with a $49 monthly recurring charge for Jaaxy. At the second year you can plan on about $406 assuming the above additional items.
Bottom Line
The high initial cost may be a barrier to some beginners, especially since there is no monthly payment option at the present time.
Also, note that there is NO REFUND should you decide you don't like Project 24
.
Project 24 Review Results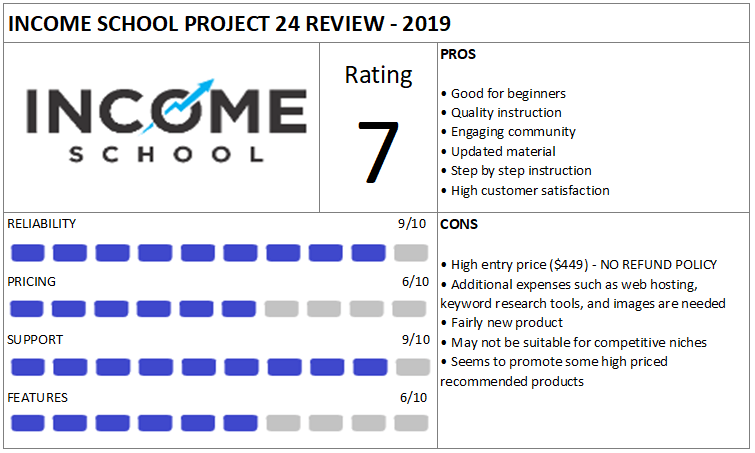 Project 24 scores strong 7.
The pricing and lack of additional tools being included in the platform were huge factors in the ranking. Overall, Project 24 appears to be a quality platform with great information, but you're going to need to spend a little more for the necessary tools you're going to need.
How Does Income School Project 24 Stack Up Against Our No. 1 Product?
Conclusion
What is Income School Project 24? It's a well put together resource for beginner and experienced marketers alike. With a growing community of individuals and resources, Project 24 shows promise for future growth.
However, if you're looking for an all-inclusive platform I'd have to step back and recommend you try a Free Starter Membership at Wealthy Affiliate. Wealthy Affiliate is an all-inclusive platform geared to both beginner and experienced marketers. They have a user base of 1.4 million, a much larger community, web hosting is included, as well as the Jaaxy keyword research tool. In addition, the platform is over a decade old and has had time to mature.
You can find my Wealthy Affiliate Review Here.
I hope you've enjoyed this review of Income School Project 24 and found it useful.
To Your Massive Online Success,
Michael
PS. Please scroll down to leave questions and comments. I'd love to hear from you.