I've seen a flurry of emails this month on another lead program called Lead Flow 247. This is the latest in lead generating programs that are working their way into the solo ad market.
Earlier this month I did a review on MyLeadGenSecret that gives you 100 to 200 leads per day. Lead Flow 247 seems to be in direct competition. If you're thinking about becoming a member, don't miss this Lead Flow 247 Review.
What Is Lead Flow 247?
Lead Flow 247 is the latest in the more affordable lead generation systems. Created by John Valley and Donald McClendon operating under DMJ Marketing Services.
The biggest difference between this and other systems I've reviewed is that the leads are drip-fed 24/7/365. So every hour you have a handful of leads dropping into your account. You can then send them to a sales page or funnel or email them collectively using their integrated 3rd party mailer.
Other features include:
Send your leads to any sales page automatically
Create lead capture pages
DFY (Done For You) generic lead capture pages
Integrated 3rd party mailer
Step-by-Step instructions
Generous affiliate program
Another feature you get with Lead Flow 247 is your leads include a phone number along with the ability to do ringless voice and text ads.
All in all, this system is pretty impressive, but the proof in the pudding, as they say. We'll go over the entire program in detail following the review scoreboard below. You definitely don't want to miss this.
Check out this video, then get the low down on all the features this platform has to offer.
Lead Flow 247 Review Results
Pros
Hourly Drip-Fed Leads 24/7
Leads Are Emailed On Receipt
Traffic Rotator
Phone No. Included
Ringless Voice Plus Text Ads
DFY Lead Capture Pages
Cons
Platform Is Very New
A SendGrid Account Is Required
A Payment Processor Is Required
No. Leads Per Hour Not Stated
Lead Flow 247 Features
How Many Leads Do You Get Every Hour?
This is the big question. It's not officially stated, but at this point in time, we are getting between 3 and 4 leads per hour. If you do the math, that's about 84 leads a day. Not too bad for the price, however, as more users jump on board, how will this affect the number of leads you get per hour remains to be seen.
Leads are very similar to MyLeadGenSecret as they are purchased Biz opp leads & network marketing leads from vendors that produce millions of leads per month. These leads are likely seeking business opportunities, MMO, and Health/Wellness needs.
What Goes On Behind The Scenes With Your Leads
Once you receive a lead, the system does a couple of things behind the scenes. The lead is emailed with your Lead Flow 247 URL which includes your affiliate ID. The lead also receives a link with your primary business opportunity URL which you have placed in your 247 profile.
This is a really cool feature as it breaks the ice with the lead. They will somewhat know who you are when you send additional promotions.
Email Your Leads Using Our 3rd Party Providers
Now this one has a catch to it. Notice it says "Our 3rd Party Providers". 3rd party providers are going to be services like SendGrid, SendinBlue, etc. In fact, at this time it appears SendGrid is their integrated provider of choice.
What this means is that you will need an account with SendGrid. After your first 30 days with SendGrid Free version, you can only email 200 leads per day using shared IP addresses. Anything more than that will run you $14.95/mo. or more, depending on how many emails you send a month.
I can tell you, it adds up. Emailing 5,000 leads a day for a month is 150,000 emails. With SendGrid, that will run you about $90/mo. There are cheaper ways, such as Amazon SES (Simple Email Service), but only SendGrid is integrated right now.
What Can You Do With Your Leads
Pretty much anything you want (as long as you don't violate Lead Flow 247 terms of use). This is where a cheaper autoresponder based on something like Amazon SES would pay off. You can download your leads and save them to a CSV file.
One thing you CANNOT do is try to import them to autoresponder services like AWeber, GetResponse, MailChimp, etc. They do not allow it, so don't even try. In fact, if you even mention leads from a service like Lead Flow 247 or MyLeadGenSecret, you will likely get banned from your autoresponder service provider.
You can only import leads to your own autoresponder like Sendy or Mailwizz, which uses a service like Amazon SES or SendGrid type providers to send mail. You are responsible for managing your send reputation.
Send Traffic To Any Sales Page you Want Everyday
As the title indicates, this feature allows you to send traffic to any sales page you want. A nice feature since this can happen automatically and doesn't require any manual intervention once you've set up the sales page.
Create Unlimited Lead Capture/Sales Pages
Being able to have your lead capture and sales pages in one place is handy. Nothing special here.
DFY Generic Lead Capture Pages
Here's a quick screenshot of the DFY lead capture pages. As you can see, these are promoting Lead Flow 247. Then you also have the option to create your own. So, if you want to promote Lead Flow 247 you can send leads to one of these pages without much fuss.
Promote Multiple Programs At The Same Time
With the ability to promote multiple programs at the same time, you won't leave any money on the table. Promote your product or programs side by side.
Traffic Rotator
This feature just became available today, Jan. 24th, 2020. The traffic rotator currently allows you to place one link into the system. The traffic includes Paid Craigslist ads, Classified ads, Solo email ads, Banner ads, Paid Ads on vendor sites, and Facebook Group Posts. Word is, Lead Flow 247 will be adding YouTube ads and Facebook Ads to the mix down the road.
What if you want more links in the Traffic Rotator? Well, you can't right now. They may add this feature in the future, however, it will likely be at an additional cost. Paid ads and paid ads, right? The money has to come from somewhere.
Payment Processor Requirements
I case you didn't pick up on it, you will need a payment processor. Stripe is the recommended payment processor, but you are free to use any other if you have an existing relationship. You'll need to be able to put a Buy Now subscription link on your page. A merchant account is recommended.
Support
Like so many other platforms these days, Lead Flow 247 provides support through a private Facebook group. Their support team is currently being ramped up to handle demand and a quick FAQ was published to answer the questions that are being fielded by their support staff.
Affiliate Program
Lead Flow 247 has a very generous affiliate program. For each referral, you receive a flat $50 commission that comes straight to you, the affiliate. The remaining $50 goes to the company. You receive a recurring $50 commission for each month your referral remains a member.
Other Updates
Since this is the initial product launch, there are a number of future updates that should be coming quickly.
Some Of These include:
More Training Videos
Funnel Templates
Sendgrid Setup Video
Traffic Rotator Traffic
More Sample Ads
Other Email Options
How Does Lead Flow 247 Compare

Compared with services like MyLeadGenSecret, Lead Flow 247 has some unique features not found in other lead generation services.
See the comparison table below.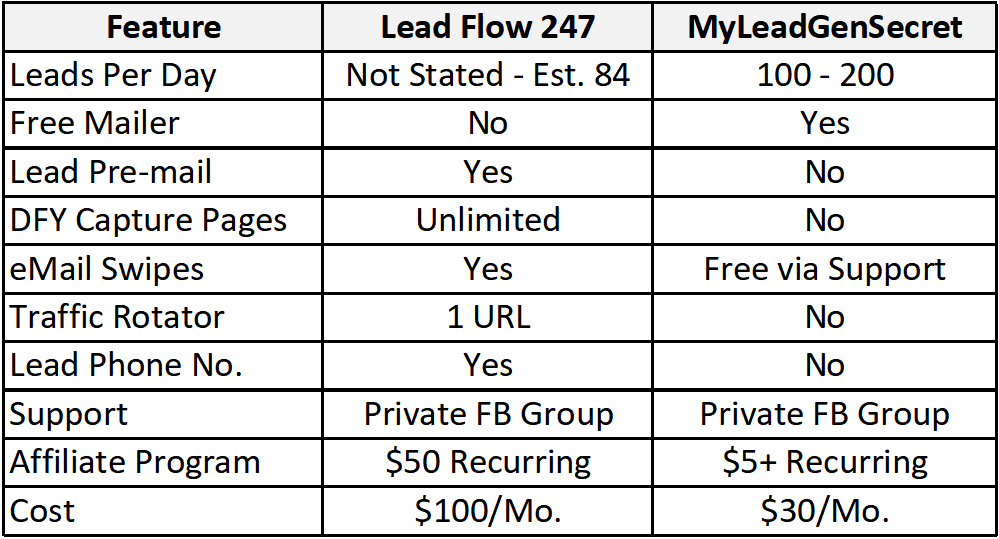 Final Thoughts
Lead Flow 247 has just launched as of Jan. 20th, 2020. Being so new it likely has not had time to work out the bugs, as all new systems tend to have. However, that said, the platform is feature-rich and appears to have a lot of plans going forward.
The Traffic Rotator is a nice feature as is the inclusion of phone numbers with ringless voice and text ads. If these features work as advertised your money will be well spent.
The leads are likely of similar quality to MyLeadGenSecret and I wouldn't be surprised if you found the similar or same leads showing up in both systems.
The bottom line, things look promising for Lead Flow 247. We'll watch the support page and listen to what users say going forward. Don't be surprised to see this article updated soon.
To YOUR Success,
Michael
Contact Info:
Text Me: 1-205-614-3005
Email Me: Michael@affiliatecash101.com
PS. Scroll down and leave me any comments or questions. I'd love to hear from you.