Hi folks. Today I'm here to talk about finding niche markets. Something that can seem somewhat daunting for a lot of people, but they don't have to be. I've gotten questions from people asking how to find a niche market, or their mind is just blank, and they can't seem to come up with any ideas. I've been there too, and I know how you feel. So I thought I'd show you some different methods, and examples of a niche market.
What is a Niche
A niche market is a group of individuals having very specific requirements and hence products that are specialized to there needs. In the weight loss supplements market, a niche market would be something like "best weight loss supplements for women over 40". We can find these niche markets using the methods shown below.
Using Google
I think one of the best tools you can use is Google search. It's not only the number one search engine but is also a place you can find some really great ideas. So let's take a look a see how we can zero in on a niche market using Google and find some examples of a niche market
UPDATE (10/11/2019): We have a brand new Keyword Generator Tool you can use to make this step a whole lot easier. It's listed under the Tools menu at the top or you can click here.
Now you can start with something you're interested in, which is usually best, but for the sake of those who might not have any ideas, I'm going to pick "Tennis". No particular reason, it was just the first thing that came to mind. So let's go to Google and type in "Tennis" without hitting the Enter key or pressing search. The first thing I notice in the image below is I see a lot of searches for "Tennis Shoes For…". This is a lead into a specialized niche. Now I was actually thinking about the sport, but now I have a new related idea based around tennis shoes that looks more promising.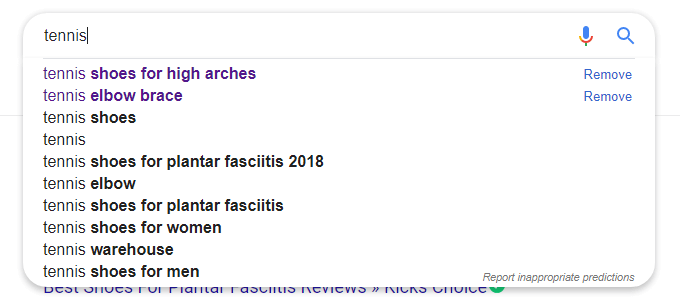 I also know that Plantar Fasciitis is a particularly painful condition (as I've dealt with it myself). One thing I want to point out here is that as you look at these search results if you see something you can identify with, like me with the plantar fasciitis, that's something you can relate to, which makes it easier for you to write about. So let's use Google to dig a little deeper into "tennis shoes for plantar fasciitis" and see if we can find other examples of a niche market.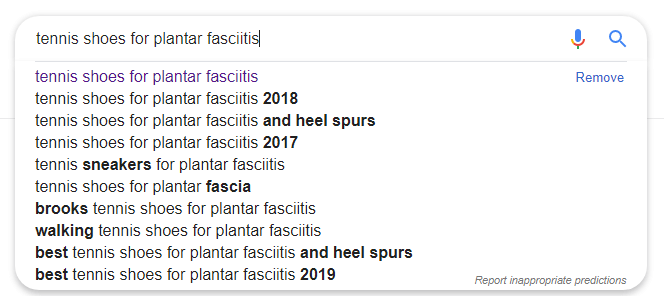 Now we are doing the same thing here, just typing it in and not pressing Enter. So, we see there are a lot of different searches taking place for this condition, so this indicates you've got something people are actively looking for a solution to.
The next thing we are going to do it see how much competition we have out there, so we want to actually search for "tennis shoes for plantar fasciitis" within quotes, as shown below, and take a look at the results.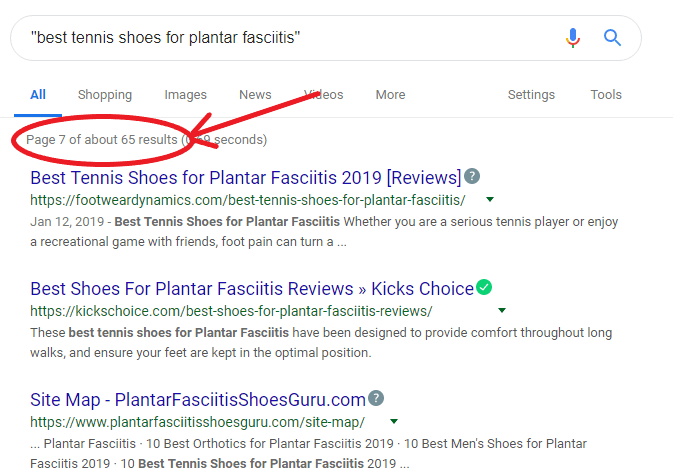 Notice that I've scrolled to about page 7 and I see that there are only 65 competing websites. That's great! You want this number to be under 100. So we've found a niche "shoes for plantar fasciitis". Not a lot of competition and people appear to be actively searching for solutions to this problem.
Next, you'll want to check and see what kinds of products are out there being marketed in your niche. Depending on your niche, you can check Clickbank, Amazon, Commission Junction, and any manufacturers or distributors that have affiliate programs. If you can't find a product being marketed to your niche, then it may not be a viable niche.
Another piece of information you really must look at is How Many people are searching in your niche each month. There should to be people actively searching for your niche for the solution to their problem. For that, I use a tool called Jaaxy. Jaaxy is great because it gives many ways to uncover niches, and it gives you all the data you need with one tool. Of course, Jaaxy is a paid tool, but there are free tools out there like Ubersuggest.
First I'll show you what the Ubersuggest results look like.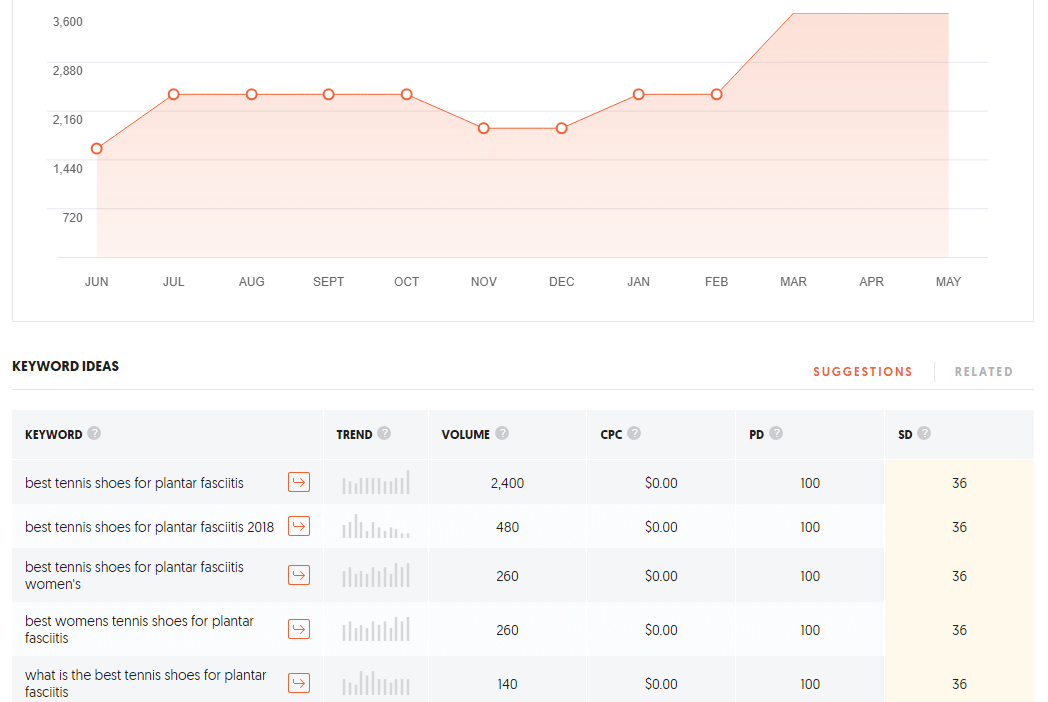 Notice that this tool only has data through February and indicates the search volume is around 2,400 per month for our search term (I'm not sure what all this number includes).
Next, we look at Jaaxy results. These are the current results. And they are a bit different from what you see with the free tool.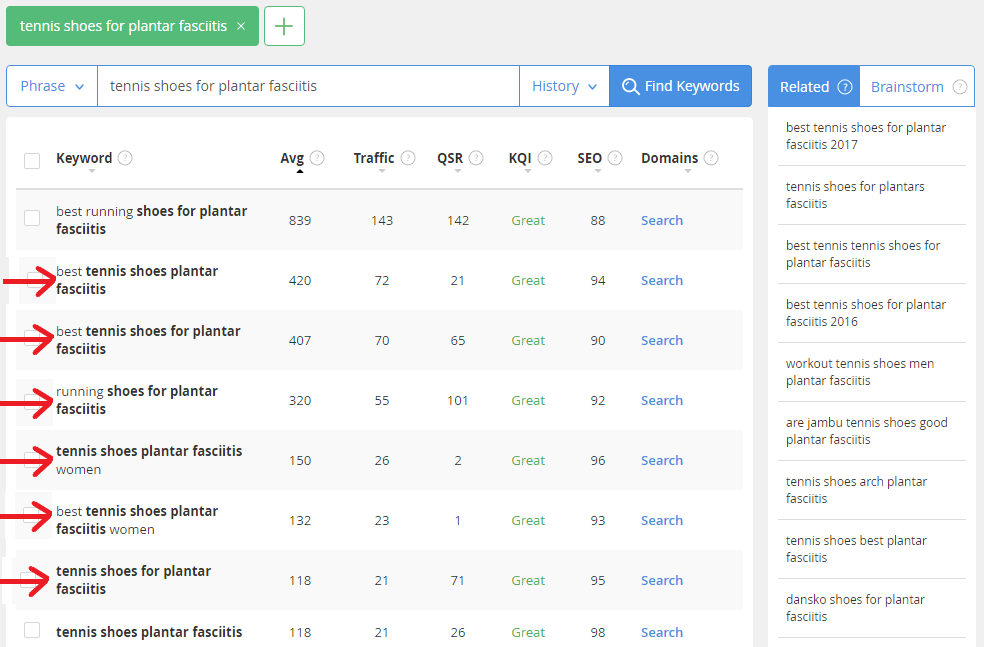 Look at all these keywords for this niche! Many of them very low QSR (QSR is the quoted search results we did manually above) and traffic. You want keywords in your niche to have at least 30 searches per month. So this would be a niche you would likely get some good traffic in, and this was not something I previously researched. You could start with the niche "shoes for plantar fasciitis", and build out your website to include many other specialized types of shoes. You can recommend and sell items from Amazon, or as an Affiliate for another manufacturer or distributor.
So you see, just using Google Search can yield a lot of niche ideas and its a great place to find examples of a niche market. Try it yourself and see what niche ideas you can come up with.
Google And Alphabet Soup
The second method I like use is termed "Alphabet Soup". This uses Google Search as well. The only difference is you use the letters of the alphabet in your search as shown below. We start with "tennis shoes for a", then "tennis shoes for b", and so on. As you can see there is a wealth of ideas, and I've only done a, b, and c. There are 23 more letters to go through. Image how many more niche ideas you can come with!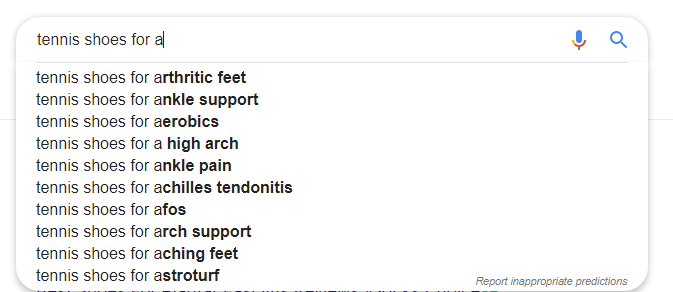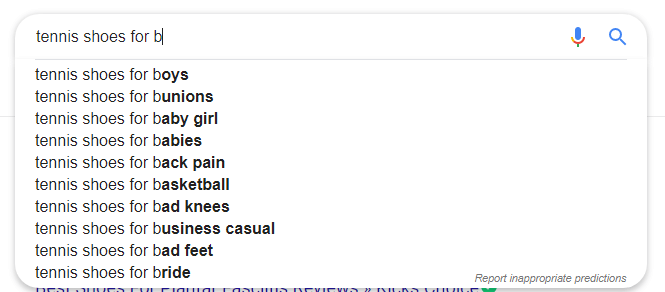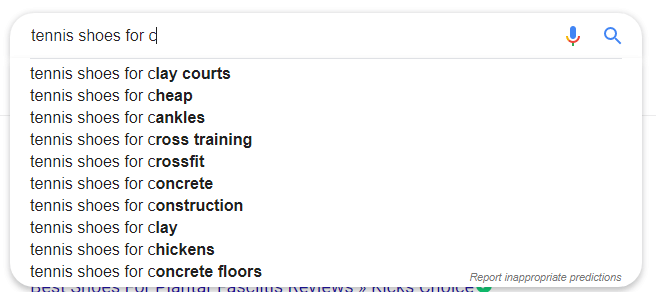 There are literally MILLIONS of niche ideas you can find by simply starting with a single topic, like tennis. Move on to a different topic and repeat the same steps.
Quora and Google Trends
If you're still fresh out ideas try heading over to Google Trends and scroll through trending topics. You can view daily search trends as well as real-time searches. See what's being actively searched on Google. This can lead to some really lucrative niche ideas.
If you need more information about a niche idea, Quora is a great place to do a little searching. Just sign up with your Google account, choose some topics of interest, and start searching. It's a great way to do market research and overcome writer's block.
You can also use Quora once you've got an idea for a market like "Tennis shoes" in our previous example, to find more niche ideas. Type in your market idea and search. You can uncover niches here as you did with Google above.
Quora can also help you promote your business by answering questions and following thought leaders. You can build a presence using your profile, and by providing good quality answers to questions on things you are knowledgeable about. Just be careful not to over-promote yourself.
Forums
Once you've found your niche head over to Google and find the top 10 forums about your niche. A good niche will have people in active discussion about it. Check out the forums and see what they are talking about. Gather ideas for articles, and strive to understand who these people really are, and how to connect with them. This will go a long way to gaining their trust and ultimately have them click on your affiliate links.
Conclusion
A little research on Google can go a long way to helping you identify a niche market. Using the methods above you can not only find your niche but get ideas to build out an entire website related to your niche.
To Recap:
Start with a topic/market of interest. Use Quora or Google Trends if you need to.
Use Google and/or Quora to get ideas for niches within your market by drilling down into search results. Or
Use the Alphabet Soup method to find niche ideas
Use Google to drill down into the niche to find something specialized
Make sure that your competition is low, or at least that you can find low competition keywords as shown above.
Check to see that there are products that can be marketed to your niche
Check to see that you have good monthly search volume
These are methods I use to find niches, and they work really well for me. But that doesn't mean there aren't other ways you can pursue as well. Some people suggest making lists of things that interest you and start with that.
What I'm saying is there is no right or wrong way to find a niche. Do what works for you. The importance lays with the niche being viable, and there being products available to promote. I hope these examples of a niche market will help you get started earning a great living online with Affiliate Marketing.
If you are really serious about Affiliate Marketing (aka Niche Marketing) I invite you to come on over to Wealthy Affiliate where you can start with a FREE Starter account – No Credit Card Needed. Get 10 free lessons, and 2 Free WordPress Websites hosted on Site-Rubix to launch your Affiliate Marketing Business.
Wishing You Enormous Success,
Michael
PS. Leave a comment below with any questions you have and I'll be happy to get right back with you.