In this article, we will take you step by step into what keywords really are, how we find them, how we do keyword research, and yes, how to use keywords in WordPress, the right way. This is a hands-on article, so open up Google in your browser and enjoy!
If you've done any investigation into Blogging, Affiliate Marketing, or trying to rank in the search engines, I'm sure you've heard of "Keywords". Keywords are used in Pay Per Click (PPC) advertising, where you pay a certain amount each time someone clicks your ad, as well as Search Engine Optimization (SEO). But how to find and use keywords for each method can be vastly different. Since SEO and natural rankings are much more desirable (and no ad cost), we will focus on SEO.
What are Keywords?
UPDATE (10/11/2019): We have a brand new Keyword Generator Tool you can use to make these steps a whole lot easier. It's listed under the Tools menu at the top or you can click here. Instead of getting the first 10 or so keyword suggestions use the Keyword Generator to get them all!
So what are keywords anyway? Well, they are simply the word or phrase a person types into Google (or any search engine) to find information on some topic. For example, if I wanted to write an article about natural weight loss products, I would go to Google and type in "natural weight loss products", or some variation of that, which would lead me to what I was looking for.
You can see some of this information by simply going to Google and typing the first couple of search words in the phrase as shown below. Try this yourself on your computer so you can follow along.

What we see here are the top 10 search terms that begin with "Natural Weight". As you can see there are quite a few things people are searching for. If we further narrow it down to just Natural Weight Loss we get this:

So from here, we see that people are searching for tea, drinks, herbs, shakes and so on. This leads us to our next topic.
How to find keywords
So, as we see from above we're starting to narrow our search from a broad term like Natural Weight Loss, to a more targeted topic like "Natural Weight Loss Shakes". This is what we want to do. Zero in on search terms that are targeted to a specific group of people. If we stay broad, like "Natural Weight Loss", we have much less of a chance of our WordPress Post even appearing in the search results and would have much less of a chance of your post reaching our target audience vs. targeting a specific group of people like those just searching for Shakes. This leads to a niche, a group of people who are looking for the same thing, which is what we want. Broad terms typically have a very high search volume and are just too competitive.
So we want to dig deeper, and narrow it down to something that is less competitive and more targeted to a certain group of people such as "Natural Weight Loss Shakes". See below.

So we've dug down deep and have some really good keywords, along with some you might not have even thought of. Try this yourself for your own topic and see what kind of keywords and niches you can uncover.
Another great way to come up with a great many keywords and niche ideas is to use what they call the Alphabet Soup method. With this, we simply take our broader search term such as "Natural Weight Loss" and add letters of the alphabet one at a time and note the results. See below, and try this yourself.



As you see, appending one letter at a time can yield a tremendous amount of information and uncover a vast number of ideas. This can give you A LOT of ideas for WordPress content, which is what you want. An article on "Natural Weight Loss Coffee", with your affiliate link to a weight loss coffee product. And something for "Natural Weight Loss After Menopause". Do a post on that, and provide a link to your product. You can change up the search terms and find even more ideas.
So what you've done up to this point is actually keyword research. This is the process we use to get ideas for not just keywords, but article topics, and niches as well. You'll want to make a list either on paper or on your computer of each keyword phrase you find that could be used as an article topic or could be used in an existing article. These longer keywords, or keyword phrases, are known as Long-Tail Keywords. They are more often used by readers who are in the buying phase of their research.
More about keywords
Once you've made your list of keywords, there is a little more information you need to choose which keywords you should use and which ones you can toss.
Go to google and search on each quoted keyword phrase you wrote down as shown below. By quoted I mean actually type in the keyword with quotation marks around it as shown below. This will yield your competition for the keyword, or how many competing websites there are for the keyword. Obviously, the lower the better. Typically, you'll want under 100 competing sites to give you a good chance of making it to page 1, which is where you want to be.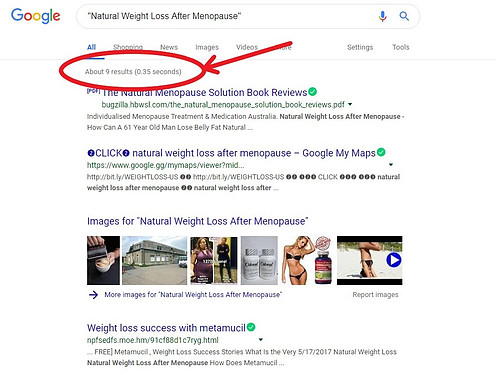 In this example I've used "Natural Weight Loss After Menopause", and you can see there are only 9 competing websites. So you could easily get your article or post on the first page of google. This would be a keeper. As I said, keep it under 100, the lower the better. Do this for all your keywords and keep the ones with the lowest competition.
The last missing ingredient we need to know is how many people are actually searching for each keyword in the list of keepers you identified above. An accurate figure for this is probably the harder one to come by. There are some free keyword tools out there like Ubersuggest, but the results you get on these free tools are usually based on older data. Ideally, you want current data.
Paid tools are the better way to go, as the data is current. Nothing's worse than targeting a keyword that no one is searching for, right? For more information on keyword research tools click HERE. Whatever tool you decide to use is up to you, but you want to keep your keywords that are getting over 30 searches per month. This is the low hanging fruit you want to focus on.
How to apply keywords in WordPress
So how to use keywords in WordPress? Now that you've done your keyword research the right way, you now have a list of low competition keywords that get traffic. You can do one of two things at this point.
You can use the keyword in an existing WordPress Post, if it will fit and make sense. OR
You can write an article or post in WordPress for each keyword you have (I use this method most of the time).
Before you do either you need to install and activate the "All in One SEO Pack" plugin from your WordPress Admin Dashboard. Then go the plugin settings and set the following options.
First, in the General Section make sure it looks like the image below.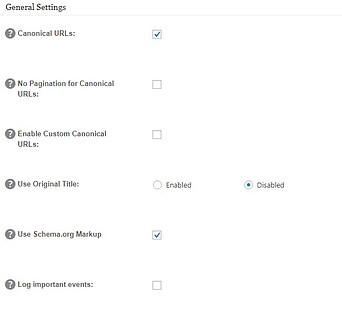 Next, scroll down to the Home Page Settings and fill in your Home Title and Home Description as seen below.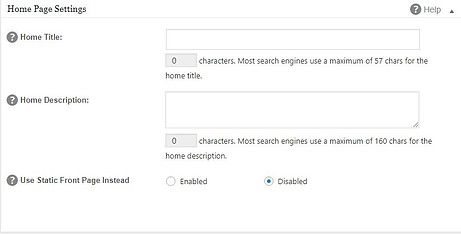 Lastly, scroll down to the No Index section and make sure it looks like the image below. Note that there will be a lot of other information as you scroll down the page, but leave those settings to their default setting. Not your page may look a little different, but the checked option will be the same.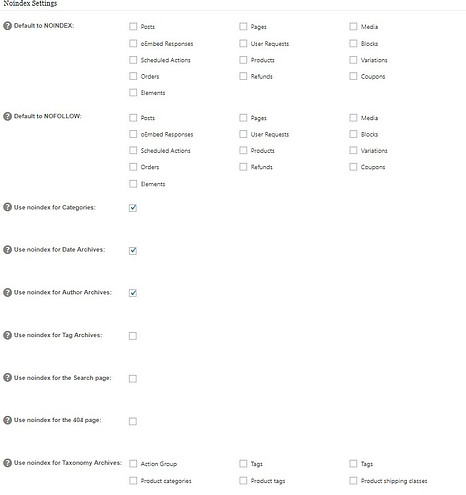 This completes the basic setup of the All in One SEO Plugin.
Next, you will either write your content, which is your Post or choose an existing Post(s) to apply your keywords too. You will typically target one keyword per post. Your post should be around 1000 words or more, and you should apply the following rules:
The full keyword should be in your post title.
The keyword should be in the first paragraph of your post.
After that, I would use your keyword somewhere in the middle of the post, and the conclusion.
DO NOT overuse the keyword in your post. Google will penalize you for using your keyword excessively. This is known as "Keyword Stuffing". A big No-No, and NOT how to use keywords in WordPress
Your content should be informative and useful to the reader. Include any affiliate links for products related to your article.
Your content can also be product reviews for any product which you are an affiliate for, so you can recommend the product, or not, at the end of your review. Either way, you should be an affiliate for any products you review so you can get commissions on the products that have poor reviews as well. Sometimes the reader just wants that specific product, regardless.
Lastly, before you publish your post fill in the All In One SEO Section at the bottom of your Edit Post Page as shown below. Fill in the Title, Description (make your reader want to click on your post to read it), and add your keyword in the Keywords box. You should also categorize your post as well as add a few tags (descriptive terms that make your post easier to find).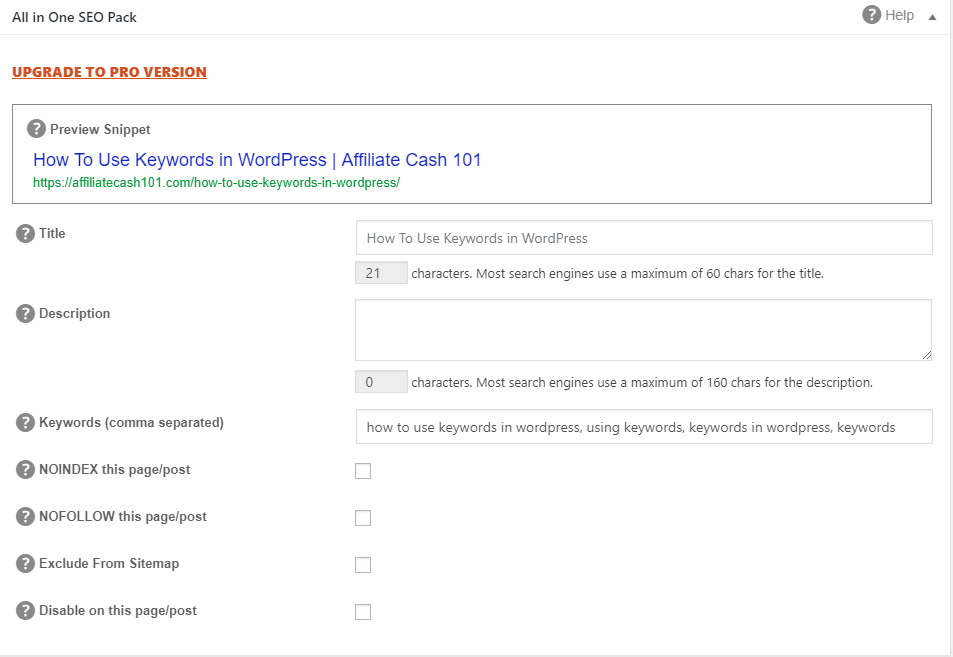 That's it, you're done. Proofread and publish your post and you're good to go.
In Conclusion
You should now have a good understanding of how to use keywords in WordPress. We've covered the essence of what a keyword is, and how to do some real keyword research. As you see, there's more to just popping a keyword into your Post. Make sure you use the free All in One SEO plugin so our website and your posts will have the proper information attached for the search engines to rank your content. Do the proper research, uncover the low hanging fruit, and you will soon be generating traffic and sales with every post.
Try a free keyword search with Jaaxy below. You can also find more information HERE
Wishing you great success,
Michael
PS. Please leave a comment if there anything you'd like to discuss or need help with.